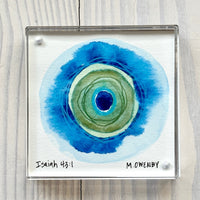 Description
Each of these paintings represents the loving + watchful eye of God.  They are mindfully + intentionally created to protect + comfort whoever owns them.  They are full of specific wishes, prayers + intentions poured out on paper + serve as perfect gifts of love, peace, encouragement + hope.  
Watercolor + Pencil Painting
The Original Painting is 4"x4", Prints include a 1" border
140lb Cold Press Paper
Archival Quality
Original Includes 4x4 Acrylic Magnetic Frame, Prints are unframed

Additional Acrylic Frames can be purchased HERE.